Vendors
Vendor List has been recently updated to include some new vendors.
All of our readers and healers have gone through a significant screening process with independent people establishing that they are professional, ethical, sincere, and skilled. Find insight, transformation, guidance, advice, counseling, and more with our many mediums and intuitive readers. Enjoy a deep-tissue massage or light-touch energy work from caring and skilled practitioners. If a vendor is not listed as a healer or reader in the book they where not tested for their services at our fair .They should not be using any endorsements from the IMF as It was not given .
This list is not complete there will be more vendors at fair if you are a vendor please send a bio exactly how you want it and send to the president it will be added.
Iowa Metaphysical Fair
Information booth
http://www.iametaphysicalfair.com
Iowa Metaphysical Fair T-shirts and Program Information
The Garden of Fire and Water
Kirby and Kayde Heidt
515-707-0573
Insight by Candle Light with Kayde Heidt
Enjoy a unquiet and age old way to receive your messages .I have been doing readings for many years using a candle and a piece of paper .My message are insightful, meaningful as well as helpful. My compassion for each individual is real . I only want to help you to grow and remove some doubts , fears, or confusion that sometime are shown to me . Healing forgiveness understanding and love all play a part in your personal growth that you some times have blocked or just don't have clarity needing someone else's vison to help to unblock it understand it or just let it go . I never know what I may be shown but I will deliver it to you with honesty, compassion, and pure intent .
Balanced Detox by Kirby
Come sit a spell relax and enjoy the benefits of an Ionic Foot Bath .Remove years of a polluted and Stressful environment taking its tole on your body's well being.
Look and feel younger improve many problems associated with the build up. Give yourself a 30 min break and recharge your batteries.
Call 515-707-0573 for private appointments or set up a Fire and Water party for your friends and family .
Major Credit Cards excepted
Insights by Candlelight
Candle Readings
Kayde
515-707-0573
Clairvoyant, Channeler, Tarot Reader, Pranic Healer
Charles is a Member of The International Association of Medical Intuitives

515-309-2831
866-612-1903
psychicl@pychic-light.com
Http://www.psychic-light.com
Charles clairvoyant insight and use of symbolism from his Guides and Tarot cards enables him to see the
spiritual, emotional, and physical aspects of his client's lives.
Through the help of his Guides he has amazed people with the information that comes from the past, present, and future.
Charles channels 7 Guides, "The Guys", as he calls them, they give him info through Conscious and Trance Channeling.
He began doing readings professionally at a very young age, becoming well known throughout the
Midwest and Nationally by the age of 15.
Clients have been astounded at the contact he has made with people that have crossed over to the spirit realm
and found great comfort in making contact with those loved ones that have departed.
Charles has done ghost and psychic investigations. He has helped find missing children
and has worked for the police in numerous cases.
Charles has studied Kabbalah, Tarot, Pranic Healing,
and has taught classes on these and other topics. Charles has trained in
New Orleans on Herbalism. He has trained others Psychics and Spiritual Healers.
As an Ordained Minster, Charles ran a Church in St. Louis for 2 years.
He holds Degrees in Religious Humanities, Metaphysics, and Philosophy.
Charles has worked throughout the US, Canada and Europe.
He has written Newspaper columns as well as been on TV and Radio shows
Your reading with Charles will reveal Insights to all aspects of your life as well as be a loving, caring, experience
that you won't forget. His clients have found his ability as a Counselor to be of great comfort in their times of need.
Light Communications Concepts
Healing Arts Center
515-309-2831
866-612-1903
http://www.psychic-light.com/healing_arts.htm
Pranic Healing & Sound Healing Therapist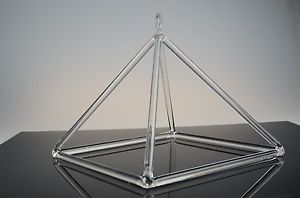 Sound and Vibrational Healing is an ancient and universal form of healing used in many cultures and spiritual traditions around the world. Sound and Vibrational Healing touches and transforms us on a physical, emotional and spiritual level. We use sound therapy's combined with Pranic Healing .
The Therapy's we will be offering at the Fair
Crystal Singing Bowls Therapy, Crystal Singing Pyramid Therapy, Tuning Fork Therapy,
Quartz Tuning Forks Sound balancing Therapy,
Quartz Crystal Singing Merkaba Therapy
Led Photon Light Therapy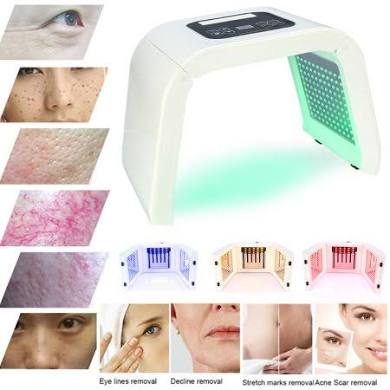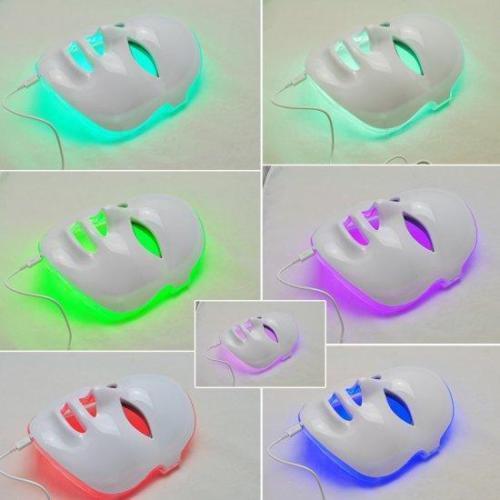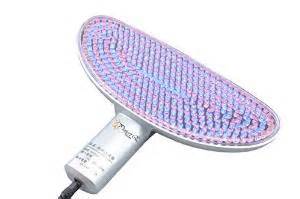 A form of treatment that has been independently studied for more than 40 years worldwide.
Visible and infrared light have been shown to affect positive therapeutic benefits to living tissues and organisms on a cellular level.
Jan Currie
Jan is a Pranic Master and a Reiki Master she is also trained in Crystal Healing
She has been working with healing energy for over 10 years
She has apprentice with Charles Tiemann for 7 years
Dream Weaver Designs
Pat Jones
515-314-5772
Patricia has been studying metaphysics, aromatherapy and holistic healing for the past 26 years. Patricia is a Reiki Master, Dresiana 8th level, Huna 6th level and 4th level Neriya. Patricia has many other attunements and energies with Spiritual Unfoldment Network and many other healing modalities. Patricia is still working with Young Living Essential Oils and doing Reflexology and Raindrop therapy for stress relief, along with ear candling. Patricia will be doing readings with Gong Hee Fot Choy (with the book and her intuitiveness), and Angel card readings. Patricia recently added Network Marketing with Healing America, selling Nectavida (The Nectar of Life).
Beverly Trout
Phone: 515-249-4977
Assistant State Director & Chief Investigator for MUFON
The Mutual UFO Network. http://mufoniowa.org/
Beverly Trout approaches the subject of UFOs from two perspectives: her 24 years of experience investigating
UFO reports, and her own interaction with UFO occupants. She's been featured in radio, TV, and newspaper interviews,
and has spoken at various conferences in the U.S. about her own experiences.
Several of her articles have been featured in UFO publications, and she is the author of spiritually related articles, as well.
Epic Eateries
515-612-5093
A Father Daughter locally owned business.
We create unique flavorful spice blends from COOL to HOT HOT. Because they are not just a Dip our spices versatility will find a way to be come a staple in your kitchen. Use them for rubs, dips, marinate meats and veggies, stir fry, dressings, and just an easy way to enhance your recipes taking them to a new level. Just use your imagination. Stop by our booth a try a sample.
Never Be Afraid To
SPICE UP YOUR LIFE
3715 University Avenue Des Moines, IA 50311
515-255-5570 desmoines@som.org
Des Moines SOM Online Calendar:
Des Moines SOM Calendar
The School of Metaphysics is a place to discover and explore the universal principles that govern our universe and put these principles into action so you can realize your full potential.
Applied Metaphysics Coursework; Short courses and seminars on visualization, meditation, dream interpretation, concentration and intuitive research provide the mental technology for developing your whole Self.
Start upgrading your Spiritual DNA now!
www.dreamschool.org www.peacedome.org www.som.org
The School of Metaphysics will be offering free Dream Interpretations and Self assessment on concentration and visualization skills
at the IOWA Metaphysical Fair
The School of Metaphysics is a 501(c)3 not-for-profit educational organization that has been serving the community of Des Moines since 1978. The core course of study in Applied Metaphysics teaches the student about the MIND and how to wield its power to realize their full potential! The coursework aids individuals in developing and enhancing skills fundamental to accessing the full capacity of the mind and the resources available to manifest their desires. The school offers a number of additional services to aid individuals in understanding and mastering their own mind. These services listed below include links to more detailed information:
Course of Study in Applied Metaphysics
Spiritual Focus Sessions
Susan Walter
816.377.3507
Your angel is waiting to talk to you.
Connect with the loving healing energy of your angel with a Personal Guardian Angel Portrait.
Each drawing holds its own inspirational and healing energy carrying a very high vibration.
Along with other visionary art.
Fair special $75 (normally $80)
John of God Crystal Bed Healing
Rebecca and Eric
913-558-7377
johnofgodcrystalhealingbed@gmail.com or cbdhealingoils@gmail.com
https://www.facebook.com/johnofgodcrystalhealingbed
John of God Crystal Bed Healing 30 min session $30.00
Spirit Master Assisted Healings for:
Disease, Illness, DNA Energy Healing, Muscle, Nerve and Blood Disease, Blocked Energies, and Personal Issues.
The crystal healing beds provide healing experiences that are unique to the individual energy level of the spiritual, physical and emotional body.
The healings and experiences vary from spiritual, physical, emotional to any combination of the above.
Your Chakras and auras will be aligned, cleared and attuned along with the removal of energy blockages.
816.381.6073
5047 W 117th Street Leawood Kansas 66211
We also offer the HIGHEST QUALITY HEMP OIL AVAILABLE. 100% Natural-Pure CO2 Extract. It is 100% Organic, Gluten Free,
Non GMO Hemp and has No Heavy Metals or Insecticides. CBD oil is LEGAL and AVAILABLE in all 50 states.
No permit or prescription is required. Every adult U.S. citizen can now benefit from the use of CBD oil!

The Joyful Journey - Shamanic Healing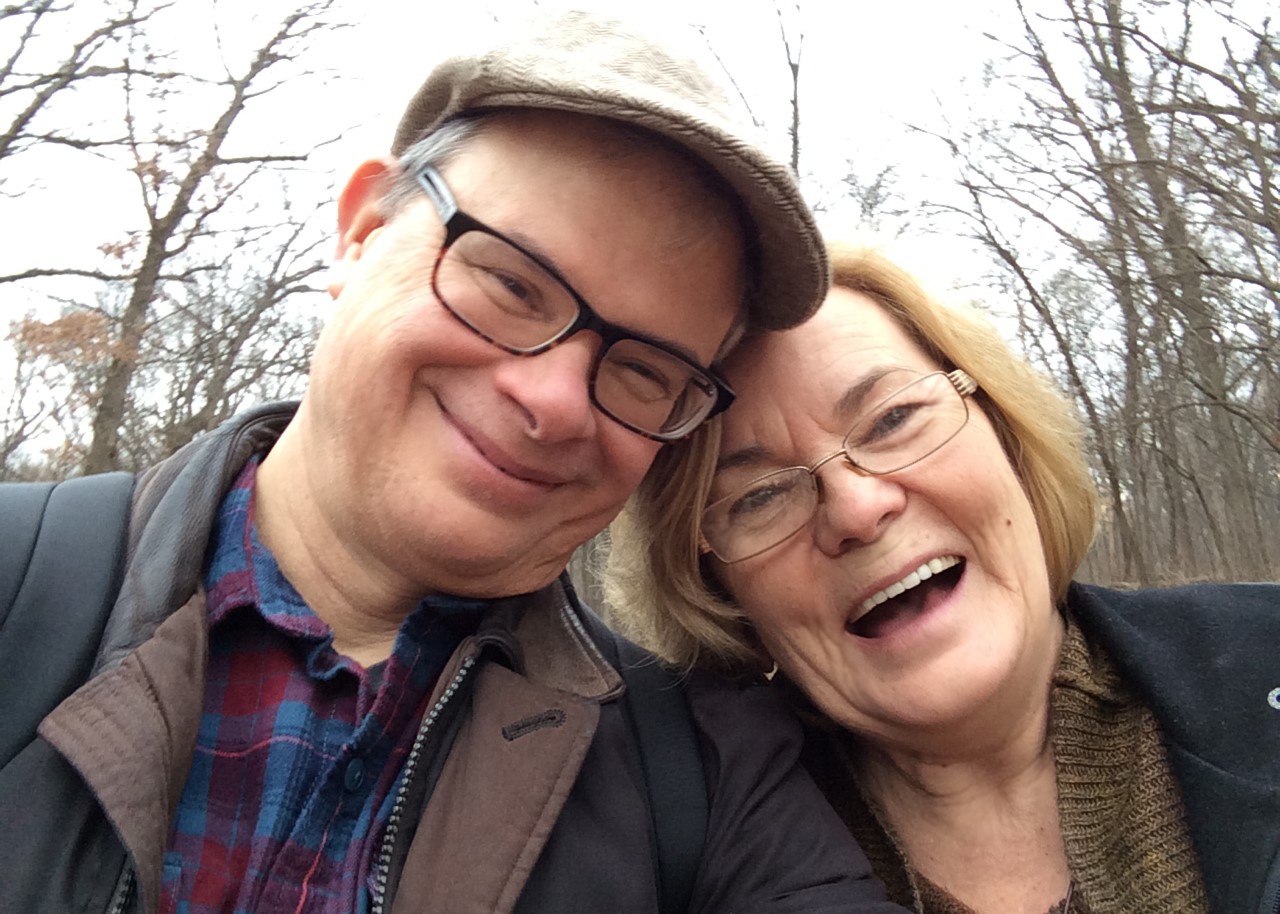 563 505-4681
www.facebook.com/thejoyfuljourneybegins
Shamanic healing identifies and removes imprints in your energy field caused by trauma from events such as accidents, abuse, divorce, grief, or psychic attack. This heavy energy can cause anxiety, illness, addiction or self-limiting thoughts and behaviors. After releasing this stuck energy, we bring Divine Light into the energy field to strengthen it. Also, we do a soul retrieval if a soul piece has left at the time of trauma. This energy work frees you to go in a new, more joyful direction. Angel and Steve Lyle have helped hundreds of clients since 2008 by using the practices of the Andean healers in Peru. Angel and Steve hold workshops, teach a 14-month shamanic apprenticeship, and lead a monthly drum circle in the Quad Cities.
Trinkets for You
Lisa Glaser
515-333-8574

Web Http://www.trinkets4u.com Email lisa@trinkets4U.com
Trinkets' designs are meant to be in harmony with nature. Stones are combined to bring out the positive energy stored in their hearts.
Each piece should remind you of a place or time, real or imagined, in nature.
We use natural stones, silver, gold plate and metal clasps in our designs for durability and affordability.


SPIRIT SPEAKER KC
Jamie Collins
816-824-2352
Facebook: Spirit Speaker KC
Twitter.com: spiritspeakerkc
Instagram: spiritspeakerkc
Jamie, a medium from Kansas City, connects with loved ones that are in spirit.
Jamie has an uncanny ability to bring through messages that gives the client closure, healing, and a knowing,
that though our loved ones are no longer with us in the physical, they are still with us in our daily lives providing us with guidance,
support and signs of love, in ways only spirit can do.
Marilyn Elliott, CHTP, RM
Psychic Counseling
Certified Healing Touch Practitioner, Reiki Master
Spiritual/Life Counselor
(515)255-2357
Marilyn has been a leading member of the community for over twenty years. She is a Intuitive/Medium Reader using a Heart and Soul connection. She is a Certified Healing Touch Practitioner and Reiki Master/Teacher serving the community with Energy Healing since 1995. She offers Mentoring/Guidance to Individuals or Groups as well as mentoring those with Psychic Gifts. She was contracted with Mercy Medical Center for ten years providing Healing Touch to their Hospice patients and has been a Guest Speaker at many Events, Institutions, Radio, and a Reader at many Psychic Fairs. Her Holistic approach to life, her wisdom and psychic abilities have helped many find clarity and security in a sometimes chaotic World.
Creative ReSources

David Lowman
27887 Timber Road
Kelley, IA 50134

515-769-2446
lowman@netins.net
http://www.netins.net/showcase/avatarstudio

David Lowman is a licensed (since 1995) Avatar Master who loves coaching people to reclaim their lives by awakening awareness of the fullness of being which can lie hidden yet, we all can experience. Discover how Avatar techniques can empower you to live life deliberately, deepen your level of personal peace; and create a deep-seated compassionate connectedness to life. The Avatar course is transforming consciousness worldwide in over 70 countries and is offered in 20 languages. Truly transcend the limitations to which you presently ascribe (and revealed transparent ones); potent Avatar tools literally use ones limiting beliefs (and their associated feelings) to leverage consciousness back to the Higher Self viewpoint. Feel the transformation that you know is the hope of the world! Tools for that transformation are waiting for you now! Use the website link above to explore free Avatar exercises. Call me to experience the free Avatar Infomation Hour, easily done at your computer in the comfort of your home. Experience first hand one of the Avatar tools free at our booth!
Blue Dragonfly Energy Balancing
cell: 641-780-9043
Blue Dragonfly Energy Balancing will be offering 15 minute mini energy healing chair sessions at the fair to balance your energy systems.
If you've been struggling with chronic pain, stressful emotions, or just feeling stuck, Stop by my booth for a mini session!
Carlyn has had an energy healing practice in Des Moines since 2013. She is a highly intuitive healer and space clearer.
Her clients value her accepting and calm demeanor, which creates a safe space for balancing their energies.
Carlyn offers in-person and distance energy healing, in person or distance space clearing/house blessing services, and clutter coaching.
Carlyn is a Certified Eden Energy Medicine Practitioner, a Certified Elemental Space Clearing Practitioner and an ordained minister in the Universal Life Church.

Contact Blue Dragonfly Energy Balancing for a free consultation.
Laura Offermann, RN, LMT, Creative Grief Coach
Owner, Spirit of the Bluffs in Council Bluffs, Iowa
712.216.3303
Grief has many faces, including the death of a loved one, divorce, job loss, empty nest, physical changes or loss of a pet, to name a few. It can throw us into slow motion, making it difficult to meet life's demands, act as a breeding ground for shame & guilt, leave us feeling stuck in a nightmarish life, convincing us we will never feel any differently.
Laura uses Creative Grief Coaching, (art, body painting, Guided Visualization, Narrative Therapy, sacred space & energy work) to help her clients transform the overwhelming, crippling pain of loss into resilient, meaningful, and juicy lives once more filled with hope, Light & Love.
Laura will be offering the workshop, "Creative Grief Coaching: Ripples of Loss" at the 2018 Iowa Metaphysical Fair and well as 15-min Therapeutic Body & Face Art Sessions at her booth for $20. Register in a drawing for a 1-Hour Creative Grief Coaching Session.
A deeply spiritual, gifted & talented healer with a fierce sense of humor, Laura offers life- & mind-altering Coaching, Transformational Women's Workshops, Massage, Energy Work and Vibroacoustic Therapy to small groups & individuals in person or via distance.
Contact Laura at 712.216.3303, Laura@SpiritoftheBluffs.com or visit her website at SpiritoftheBluffs.com to schedule your Free 30-Minute Grief Coaching Discovery Session to see how you can transcend grief & loss and begin to live, again.
Animal Shaman Karen Craft
515-233-2308
e-mail: karen@animalshaman.com
Animal communicator/pet psychic Karen Craft offers you a deeper connection with your animal companions.
Do you wonder what your pets are thinking or are they having behavioral issues?
Karen can telepathically speak with them. She normally works by telephone using a photo or description of the animals,
so you don't need to have your pet with you to get a reading.
You can also reconnect with animals who have crossed over.
Karen's book, The Cosmic Purr, will be available and (new this year)
"Magnetic Nature," Karen's hand-crafted scenic art and fun fish for your refrigerator or magnetic bulletin board.
Quantum Touch by Alita
316-727-1676
Alita discovered she was an energy healer at the age of 5 and has been an energy healer for over 35 years.
She became a Reiki Master over 20 years ago.
She has learned and practices many different alternative-healing modalities over the 35 years
including but not limited to energy, sound, light healings, and hypnisis. In 2012,
she discovered Quantum Touch, a modality that was similar to her natural healing style and abilities,
she became not only a practitoner, she became an instructor so she could articulate and teach her passion ...
energy healing! Using Quantum Touch, Alita has the ability to align spines energetically with no bone manipulation,
calm and relax the body, mind and soul and align tailbones with energy and leg movements.
She can also build a bridge between the head and heart, which is so needed in our world today...,
and she offers so much more. Alita helps you heal in expected and unexpected ways. Experience the power to heal!
Rachel Corpus
515 943 6877
Rachel Corpus is an intuitive medium from West Des Moines.
She offers Angel, tarot, and past life readings, and can connect to the deceased.
Rachel also offers spiritual life coaching and a very unique experience called a divine gift reading.
Rachel can help the deceased cross over, can clear negative energies, and close portals.
Rachel is nonjudgmental, loving, and accurate. To learn more about Rachel visit:
rachelcorpus.com or visit her Facebook page: Rachel Corpus,Intuitive Medium and Spiritual Counselor.

Elements of Rejuvenation is an Iowa-based business which is known throughout the Midwest as an affordable source of high quality metaphysical goods We offer natural and inspired products from around the world which are also metaphysical tools for better living, at a decent price so folks can actually afford to own them. Our merchandise includes: Mineral and crystal specimens, including spheres, standing points, double terminated points, and tumbled stones; Tibetan singing bowls and prayer flags; Himalayan salt lamps, salt grinders, and inhalers which have been endorsed by Dr. Oz; Authentic Native American art such as Zuni fetishes; book, runes and windchimes; Sage, smudge and incense; 100% natural Soy Wax candles and tarts which come in 40+ cruelty-free scents. Let us use our years of experience to help you select items that support your goals. We work with wholesalers worldwide to bring you a nice selection, and we only sell things that we would want to own ourselves. Because the fact is, we do own them until they move on to their new homes. We carry many items beyond this short list so stop by our big double booth this weekend or check out our website throughout the year.

Morning Light
1251 73rd
Windsor Heights, IA 50311
515-255-9256
800-728-5693
Http://www.morninglightstore.com
Books new and used, relaxation music, crystals, rock shop, gemstone jewelry, gifts, classes, workshops, online store.
Hours:
Mon-Thurs 11 am - 7pm
Friday: 11 am - 6 pm
Sat.: 10 am - 5 pm
Coriann Westvold
Nordic Palmistry, Aura Perception, Dream Interpretation, Ministerial Services & Spiritual Counseling.
Coriann has been practicing her intuitive skills here in her home state of Iowa for over a decade.
"Norse Palmistry is unique in that it doesn't succumb to the notion of Destiny. Your fate is your own," she says.
"My job is to simply help you find it." Her clients consistently comment on her matter-of-fact accuracy.
She is incredibly 'down to earth' and easy to talk to. Small groups of 2-3 are welcome. Schedule fills quickly.
Aistre Amber
Kate Porterfield
913-484-4158
KJPinKC@yahoo.com
Baltic amber is a 40-60 million year old fossilized resin
valued for it's healing and protective properties.
Best variety of Baltic Amber in the Mid West.
For Protective, medicinal, and decorative uses.
Chiropractic in Motion
Dr. Shannon White
4105 Westown Parkway
Ste. 201
West Des Moines, IA 50266
515-267-9956
At Chiropractic in Motion we treat everything from headaches, low back pain,
fibromyalgia, whiplash, & numbness and tingling in the arms and legs.
We also treat people from all age ranges including newborns to the very elderly.
Stop in sometime for a free consultation.
Astro Eyes
Evolutionary Astrology
515- 779-7154
astroeyes@aol.com
www.astroeyes.com
Cathy Lindsey has been an active Evolutionary Astrologer since 1994. After a life-changing experience with cancer, her Astrological and Psychic gifts were activated. She has since studied with world renowned Evolutionary Astrologers Steven Forrest and Jeffrey Wolf Green and is a graduate of Forrest's Astrological Apprenticeship Program. Cathy also teaches and speaks on Evolutionary Astrology." Please bring your birth time"
Energetic Transformations
Mary Webb
Certified Matrix Energetics Practitioner
energetictransformations@gmail.com
515 964-0915
Since she was a young child, Mary Webb, has been on a spiritual path. Both her maternal grandmother and her mother, encouraged and guided her to use her gifts to help others. This led Mary to explore many ways of helping others.
Matrix Energetics is a consciousness technology based on quantum physics and torsion physics. It is a heart-centered method of transforming one's life physically, mentally, emotionally, or spiritually. Through focused intent and letting go of the outcome, changes occur. Come experience the wonder of it!
Mary has been practicing Matrix Energetics since 2012 and is currently a Certified Matrix Energetics Practitioner.
Spiritual Insights by Linda Leigh
515-991-0149
Linda Leigh provides spiritual insight through intuitive readings. She has practiced as a gifted intuitive for over 40 years. Linda Leigh is a spiritual listener and channels the information needed by the seeker at this moment and time. Other services include: psychometric readings, dream analysis, Tarot, and energy healing including Reiki and Reconnective Healing.
Wind Water Harmony
Your shoppe of beautiful high quality intentional gifts and tools including one-of-a-kind pendulums, salt lamps, runes, palo santo, selenite lamps, over sixty different gemstones, beautiful statuary and more. All honoring spirituality, feng shui and color, many one of a kind and fair trade, personally selected or created by Diana DiCristina for you, for your space … for the Soul.
Frank DiCristina
Frank DiCristina; sound healer, dowser, energy medicine practitioner will be offering sound healing tune-ups to relax, release and rebalance your mind, body and spirit. The highest quality singing bowls, ting-sha's from India and Nepal will also be available for purchase so you may be able to do your own healing work. CD's, dowsing tools and cures will also be available as well.
Mystic Forest
Frank Slagle
5441 Hwy 62E
Mountain Home, AR 72653
870-492-4106
Hawk4186@yahoo.com
Known as the Bookman - selling books for over 25 years. Full store in Mountain Home, Arkansas. Books, Tarot cards, drums, tools, sarongs, tapestries, incense, statues, crystals, stones, jewelry, sage, Native American, mountain T-Shirts, cards, posters, soap, and a lot more.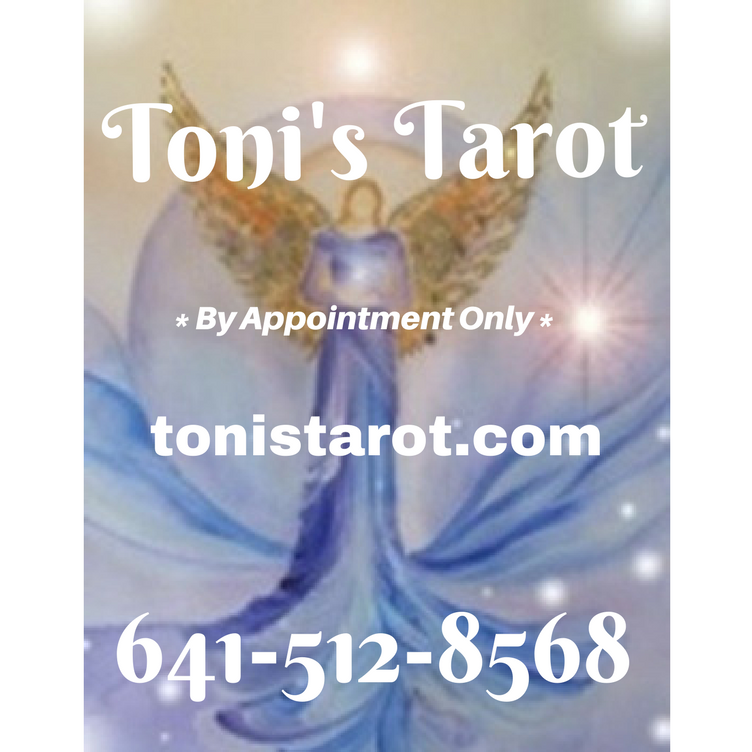 Offering Angel/Tarot Readings
Intuitive since birth, Toni uses her God-given gifts and provides gentle healing guidance for others.
As a holistic entrepreneur her love, life, work, and spirituality are NOT separate.
A mother and grandmother she has always believed there was more to life than what we have been told.
She believes in living a life of kindness and peace, not because it is something we are supposed to do, but
because it's the right thing to do.
Toni is someone that triggers within you, your own ability to heal yourself.
*By Appointment Only*
641-512-8568
Angel Lynn & Debra Holett
515-779-0340
angellynn@mchsi.com
Since I was a little girl I was talked to from the other side. Of course, I didn't understand things then. Now I do. I have a calling to help people. I listened and this is what I do. I am clairvoyant, clairaudient, I have mediumship and I see future and past. I use my spirit guides and yours during a reading. I am able to connect very fast and start getting information. My goal is to help people help themselves. If I help those that need it then I've done my job. I have been doing psychic parties all over the state. I so enjoy what I do. So if you are looking to have some fun consider a party. Stay in the light. - Angel Lynn
Light Jewels LLC
Facebook
https://www.facebook.com/pages/Light-Jewels/178251442276434?ref=hl

Light Jewels is dedicated to presenting beauty from Mark's hand-crafted inspired jewelry,
unique silver and stone jewelry, crystals and music, as well as
Jean's book Messages from Other Worlds and her past life readings for spiritual growth and awareness
Linda A. Ford
One 2 Dream
Psychic Counseling, Life Coaching & Evolutionary Astrology
Des Moines, IA
515-274-9337
https://www.facebook.com/12Dream
Is it time for something better?
If so, it's time to follow the path to psychic counselor and astrologer
Linda A. Ford
Vision Enhancement & Dream Design
Linda is a wise and intuitive spirit that has accumulated years of experience as a psychic counselor, coach and astrologer. She helps you discover the life changing insight that you've been seeking. Linda will help you navigate your life's lessons and challenges while simultaneously uncovering the true meaning behind immediate, past and future events. This coaching and spiritual wisdom will not only empower and motivate you, but will also provide long-term clarity.
Linda is gifted in psychic knowing, seeing, feeling, hearing and smelling. She does psychometry (object reading) and some medium work.
The time is now! Attend one of Linda's intuition or spiritual development classes, schedule a private session to discover your new path today.
Linda A. Ford is a Master astrologer of renowned astrologer, Steven Forrest's Astrology Certification Program.
The tumbled Stone and Laser Squared
563-221-1125
Reiki by Vicki sells over 100 tumbled stones, Pendulums, Spirit Animals, Angel Cards, singing bowls, sage, and other metaphysical products.
Vicki and her staff can personally guide you in your choices, or gladly let you browse.
Her husband, Brian, creates Crystal Grids, Labyrinths, "upcycles" LPs into clocks or wall art, and does custom work.
This is done through their newest product line, Laser Squared.
Shawnie Denucce
(515) 490-0059
https://www.facebook.com/LiveIntuitively/

Live Intuitively is my way of life.
I have been reading Tarot Cards for over 18 years.
I am an Empath, an Intuitive and Clairvoyant
which allows me to connect very deeply to people/their Guides.
I will clear the 'fog' that is blocking the clarity in your life.
Let me tap into your world and give you the
much-needed inner peace that you have been looking for.
Looking for a sign? This is it! ~ Shawnie
Lauracle Compassionate Psychic Guidance
Intuitive Life Coach and Mentor
515-975-6331
Laura@Lauracle.com www.Lauracle.com
Laura Jones is clairvoyant, clairaudient, clairsentient and will answer your questions about money, soul mates, career, life purpose,
relationships, past lives, business, personal, guides, angels and your own intuition.
Laura is a Trusted Servant for the Divine and loves to assist you in:
Opening doors to more love, joy and gratitude
· Easily move forward into the latest updated version of your self.
· Find your open doors to grace and ease.
· Increase you confidence and optimism in the future.
· Feel understood, light, empowered and passionate again.
Bio: For over 17 years, Laura Jones of Lauracle Compassionate Psychic Guidance has been doing intuitive readings,
mentoring and teaching in Des Moines and through out the Midwest.
Laura's intuition was enhanced after two near death traumas in her toddler years (and another near death experience in Jan. of 2012). At these life changing times, she made contact with her Angel and was told to carry on. Laura awakened to her passion and found her life purpose as a teacher, reader, healer and mentor. She has enhanced her gifts and understanding through travel to sacred sites, crystal work, Reiki Master/Teacher, meditation, self study, body work, energy healing, channeling, breath work, yoga, singing, gardening, teaching, coaching, Hindu, Buddhist and Christian studies.
Laura Jones is a wise woman of many life times and works full time to empower others. She is considered compassionate, loving and an inspiration to many.
In addition to her readings and consultations, Laura has been teaching her unique and very popular Lauracle Method classes on developing your own natural intuition and finding your Life Purpose. She also likes to teach the workshops she developed that help sensitive people and empaths to deal with feelings and energies.
Readings, Consultations, Presentations, Mentoring, Healings, Workshops and Classes.
Clairvoyant and Medical Intuitive
psychicsu@gmail.com Website: www.suwalker.com
Cell phone: 515-291-6038
Iowa native Su Walker has been a professional detail clairvoyant and medical intuitive for 25+ years.
She has been featured on national and international television, has worked on countless missing person and murder investigations,
and has assisted numerous three letter agencies across the United States. Su now lives in Rio Rancho, New Mexico and is on Mountain Time.
320-260-2138
You have questions and worries. Let my Tarot bring you answers, reassurance, and a path to follow. I believe healing beings with a clear and settled mind. So I offer you confidentiality and freedom from judgment as I provide trusted insight, guidance, and a gateway to answers from the universe. I brought my Tarot style with me from England over 30 years ago. Choose from the variety of decks I have available for a more attuned reading leading to positive changes.
I have had tarot cards since early childhood, when I called them my story telling cards and used them as such, telling stories to my dolls. When as a teen I learnt they were Tarot, I found that I already knew their meanings and their secrets. That was a long time ago. Today I like to help others with my readings. I keep it simple and straight forward. I read and I teach reading intuitively, at my workshops, Just One Day – Intuitive Tarot Reading. You can reserve your reading early and learn about my next workshop, at my website.
Kelly Two Wolves

Kelly is a Nationally Renowned Psychic,
Medium, Spiritual Counselor, and Empath.
Reading for over 25 yrs , highly accurate,
clear and direct she doesn't disappoint .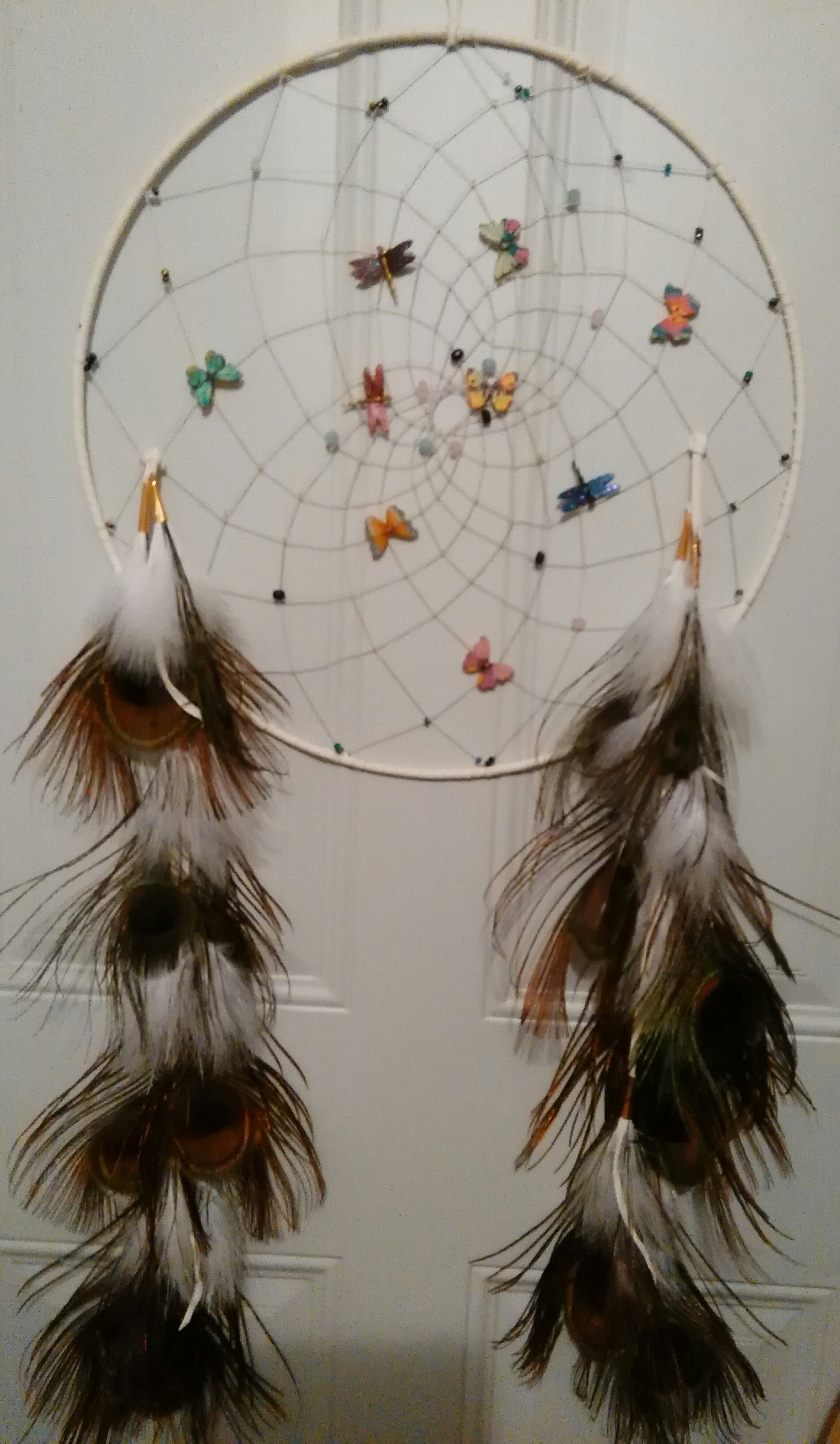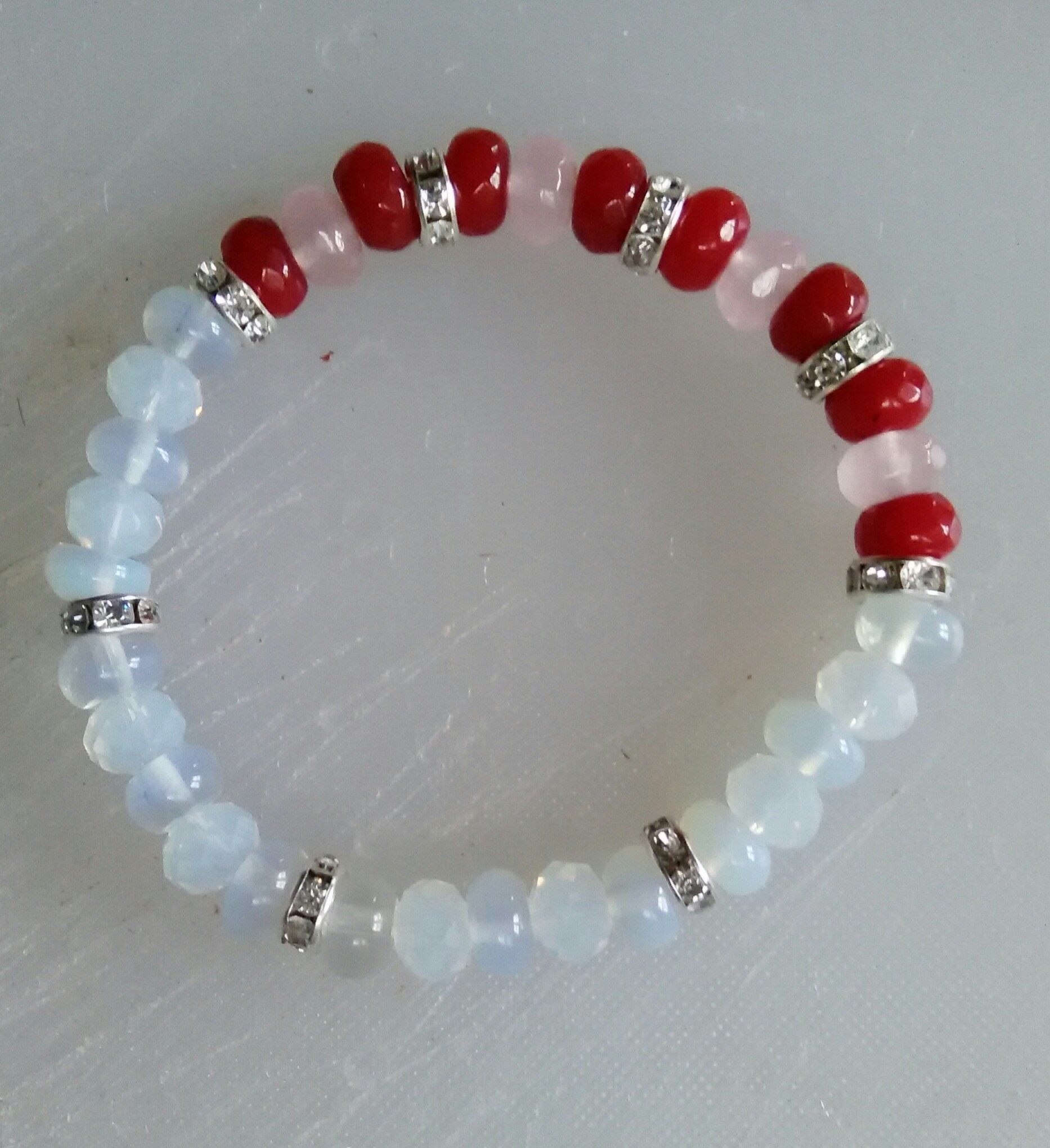 Deborah K. Lang
515-745-0765
In 2006, I became a cancer survivor. From that life experience, I began looking at natural ways to change my life. I began using organic products and attending many natural health seminars.
During 2007, I met a very spiritual and intuitive person that became my mentor. She worked with me to discover the gifts that I did not know existed within me. I became involved with courses and classes in the metaphysical field that woke up my spirit.
I have had experiences with essential oils, Crystal Healing, Hands on Healing, Infant Massage, Card Readings, Quantum Touch Healing, Access Consciousness and drumming circles. I received training in Angel Card Reading from a course by Doreen Virtue.
My most beloved modality that I am currently working with is Angel Energy Healing. During my Angel Energy Healing sessions I also receive messages from the Angels and Archangels that I share with my clients. The beautiful healings that are channeled through me for my clients is pure love from these Angelic beings.
Over the past eight years I have had booths at Edge Life Expos and metaphysical fairs in Nebraska and Iowa. Thank You!
OSHRAM
(formerly Angels at play)
Selling a wide range of Stones, skulls ,Jewelry, crystal and so much more


Profound Mystic Meditation
Join Roger Ringo and discover various ways to reduce stress and have harmony with your inner feelings.For over 30 yearts Roger has been guiding people in advaced living concepts and methods to communicate You will learn invaluable insight and techniques ,If your tired of the old cliches and traditions that do not work then I welcome the opportunity to assist you in your journey.


Healing Hands and More

We believe in the joy of laughter at the Healing Hands and More -stop by to see what brings us such joy.With natural soaps,lotions &essential oils ,you can luxuriate and stimulate your senses. Our jewelry is chosen for fun and flair not to break your budget .We offer quality products at affordable prices .If we wouldn't pay that why should we expect you to? Instead we have done what we do best -shopped for quality products at the best prices .Stop by and share a smile with us .Many Blessings to you .


Natasha Keefer
I am an Acrylic Abstract Artist. I see you aura with my intuitiveness .I create a one of a kind personal work of art canvas sizes are 5x7 or 10x12 .In just 10-30 minutes your art is complete

Shelly Jennings
I have been reading Tarot for 15 years ,but I have beenintuitive all my life .I give readings with loving spirit and will answer your questions honestly and with loving care I am a Reki Master and embrace the Metaphysical World .
Kim Weaver
Evidential spiritual medium and channel
1906 90th Ave., Suite 106,
Algona, IA 50511
Phone: 515-320-2453
Kim Weaver is a evidential spiritual medium and channel. I unite loved ones from across the veil by delivering words of love and evidence to validate the soul lives on. I also channel esoteric wisdom from the higher realms. I have been blessed to study with some of the best Spiritualists and mediums from the USA and United Kingdom. I am also the creator of several Orgonite pieces. Orgonite has many healing benefits and other features as well. If you are looking to connect with a loved one in spirit, receive guidance from the spirit realms or interested in Orgonite, I hope you'll stop by my booth. Namaste!
www.crossroads-collective.com
www.facebook.com/crossroadscollectiveok
Crossroads Collective
Set your Spirit FREE
We are purveyors of the Unusual.
Since 1999 we have been a trusted resource of Meditational and Metaphysical Supplies for the discerning.
Readings by: Seraphina Celeste
When I was 13 my mother taught me how to express my connection to the Akashic Record through Tarot.
I provide readings on any issue, situation, or relationship in this life or a pastlife.
Also great with children and newbies to Tarot.
Devonna Gilpatrick
(405) 677-2557
I use the Tarot much as I would use a paint brush to paint a picture of the clients future challenges and crossroads that
they may be facing thus enabling them to make an informed decision on how to proceed with their lives.
I have been psychic since the age of 6 and at that time and age I thought every child had their on group of Angles that they played and hung out with.
Some 42 years ago I stopped at a bookstore one day and picked up a Tarot deck went home and the first time
I laid the cards out they spoke to me and proceeded to tell me the story of my life and at that point I was hooked
Voices From Heaven
Robert Baca
515-278-5033
Http://www.voicesfromheaven.com
RRvoices@aol.com
robert@voicesfromheaven.com
Robert's gift of communicating with those loved ones who have crossed over is so extremely strong that he continues to astound both believers and skeptics alike. He has appeared on various radio and television shows throughout the country and he has been featured in several different newspapers and magazines, including internationally Fate Magazine. In addition to the gift of communicating with those loved ones who have crossed over, Robert can foresee and share insight in present and future aspects of a person's life, including: Finances, Career, Relationships, and Spiritual Development.
Gems in the Myst
Judith Pace and Barb Shearer
Prairie Village Kansas
913-262-0869
Wire-wrapped jewelry, crystals, pendulums, wands, spheres,
incense bottles, specimens.
One of a kind magick healing wands hand crafted from all kinds of crystals, sticks, stones, bones, antler, shells, coral, fossils, found objects, love, intention, and good juju. RA Moonhawk, Wizard of Wands, has been creating these transformational tools for over 35 years based on a vision he had while in deep meditation. People use them for meditation, space clearing, reiki/ energy healing, activation, dream work, journeying, astral travel, etc. Come see which extraordinary energetic pieces call to you!
The Holistic Warrior
Thomas J. Nolan III, PhD
4235 Brookview
Norman, OK 73072
405 360-2250
What Can The Holistic Warrior Help Me?
Show you actions you can take that will put you in control of your life!
Identify and break patterns that are not in your best interest!
Find and maintain that special relationship!
Obtain peace of mind that you can maintain under most conditions!
Create a wealthy state of mind that will attract wealth to you!
How Does The Holistic Warrior Help Me?
Each reading is designed to help you: 1) identify patterns of sabotage; 2) demonstrate methods that will help you resolve these problems; and 3) build connections with yourself, God, and others. As a result, you will be able to create a life that is self-sufficient, not co-dependent, and develop spiritually.
What is the Holistic Warrior's Background?
My educational background includes a Ph.D. in Ecological Psychology, an MS in Chemistry, and a Trainer's Certification in Behavior Modification. I have also studied with several schools, including the Rosicrucians, the School of Metaphysics , and The Gurdjieffian Movement.
405-923-5435
CKY Designs: Cecelia K Yoder
I am a designer with a focus on creating necklaces, earrings, brooches and beaded art objects.
I search for the most beautiful, unusual, rare, high quality materials available.
My pieces are one of a kind and take inspiration from a variety of styles and cultural influences.
Kelly is a Psychic, Medium and certified Reiki practitioner.
Kelly has been reading professionally for many years & is also the organizer of the Psychic & Paranormal Expos.
Whether you want to get more insight into your career, love life or your path in life,
Kelly will connect with Spirit to bring these messages to you.
To contact Kelly go to:
www.PsychicReadingsbyMoonspinner.com
Email: Moonspinner1976@yahoo.com
Facebook: Readings by Moonspinner
CLEAR VISIONS BY DENISE
Denise Vazquez
clearvisions@q.com,
515-280-WISH(9474), or 515-770-1615.
Denise Vazquez is a psychic intuitive adviser. She works out of her Des Moines home doing readings by appointment,
either in her home, over the phone, or via email. She enjoys going out to work parties,
whether they be small home parties or big events (like Drake kick offs or Terrace Hill balls).
Gifted since childhood with the ability to see (clairvoyance), she has, over the past 30 years,
developed her other abilities (claircognizance, clairsentience, clairaudience) of knowing, feeling and hearing.
She gives public lectures and teaches classes to help others develop their abilities.
Denise is a medium, an empath, a teacher, a healing touch practitioner, and licensed Theta Healer.
She does palmistry, numerology, and past life regression, as well. All her readings are guided by her angels and guides
Soul Touched By Robin
Robin is a psychic intuitive healer who inspires you to live your dreams. She works in the New Energy and is trained in Reiki, Spiritual Response Therapy, and the Akashic Records. Robin has been providing readings and guidance to others since she was a teenager. Recently, she began traveling the country to share this love and inspiration. Robin will provide you with an intuitive reading to answer your questions, heal, inspire, and guide you with Love on your path.
A Touch of Grace
Barb Jones
319-238-2883
Barb is a licensed cosmetologist, massage therapist and reiki practioner by trade.
She offers reiki sessions that are customized to your specific needs and for any length of time you desire.
If you are in a hurry, she will work with you for 10 minutes. Or if you have many needs, she can work with you for up to an hour as well as sending reiki long distance.
Barb does reflexology treatments on hands and feet. The length of time is the same as reiki...whatever you need and what fits your schedule.
Barb also offers psychometry readings. Psychometry is the practice of touching an object or person to glean insight into the feelings of the person or to figure out what steps to take next in life,
or if you're on the right path. Barb can discover things from your past that may be effecting your present and future. She will always help you to stay positive in your reading and attract what you want in your life. Barb also does tarot card readings. Barb can do readings over the phone as well as in person.
Savy Chhith
Nowadays
"Old Techniques. New Antiques"
515-505-1962
Mia Countryman
www.facebook.com/MiaCountryman
Mia Countryman is an Access Consciousness Bars Facilitator who is located in Des Moines, Iowa.
She does private sessions and facilitates classes for others to be Bars Practitioners.
To learn more about Access Bars and what a session could do for you check out
http://www.bars.accessconsciousness.com/
What gift could Access Bars be in your life?
Watkins
Jack & Jodene Allen
500 Milwaukee St # 4
Madrid, IA 50156
515-795-5115
Large variety of products. 10% off fair special. Natural flavored honey
Ragabash
Ragabash Halcon is a tarot reader and Usui Reiki Master. She has been an avid diviner since she was 10 and first started learning about palmistry. Since then, her personal divination style and methods have changed, but she has been deeply influenced by divination for most of her life. Currently, she is a tarot reader at the Enchanted Boutique in White Bear Lake, Minnesota. She has written four books-- Tarot Primer, Fill In the Spellbook volumes 1 and 2, and Technomagic: An Introduction. She is the owner of her online store www.FirebornAlchemy.com.
Randall Blackman
515-778-9618
I have been reading the Tarot for over 30 years. I am able to see and feel a person's past, present and possible future.
I can tap into a person's energy and use my gifts to advise, counsel, encourage and console.
My clients are often amazed at my ability to speak directly to the heart of their matter and touch the very core of their being.
I offer a premier tarot experience and I look forward to helping you become the best that you can be!
Besides being a Reiki practitioner, I am also available to help you turn your home into a sacred space, by using a variety of energy clearing techniques that I have learned over my many years of study.
Along with teaching tarot classes, I am available for private tarot sessions, small parties and special occasions!!!
Essential Essence for a Healthy You
Tina Smith and Erin Essy
http://KristinaSmith.vibrantscents.com
515-710-6137 or 515-210-4871
erinessy@hotmail.com or kri8199@msn.com
The next time you drive by a field of fresh peppermint or hike through a pine forest, breathe deeply—you're experiencing the soul-soothing power of essential oils. But essential oils are more than nice scents; these powerful plant extracts are your path to the lifelong wellness we are committed to helping you discover.
Young Living formulates targeted, essential oil-based wellness solutions that empower you to dodge harmful chemicals, energize your life, ditch stress and negativity, and reclaim your natural radiance. Essential oils have been used for thousands of years for their health, cosmetic, and emotionally uplifting properties. Primarily extracted through careful steam distillation, but also through cold pressing, the purest essential oils are far more powerful and effective than dry herbs, delivering quick and effective results. Any time you hold a bottle of our powerful essential oils, you are holding the pure essence of health-promoting botanicals that can be diffused, inhaled, applied topically, incorporated into massage, or taken internally.
We will also have the Zyto Scan available. This measures the bio-markers in your body through your palm. At the end of the scan it will tell you what essential oils your body needs at that moment to balance all of the systems in your body.
Claudia Diltz, Owner & Creator of Bio-Energetic Jewelry. Since 2005
Beautiful functional programmed jewelry
(620) 343-8222
Claudia has been on a spiritual path since her teen years & has found a way to channel her healing ministry
into beautiful jewelry that has been programmed with thousands of healing frequencies to help protect you from electro-magnetic pollution
from cell phones, computers electric appliances and even the dash board of the car.
They also reduce stress, clear negative cellular memory, improve memory, balance, focus, concentration, intuition,
and not only protect you from your own negative thoughts and emotions, but those of other's in your environment.
Through resistance testing or kinesiology, Claudia can show you exactly what this beautiful jewelry can do for you.
LuGene Isleman,
CNHP, Reflexologist and IN.FORM Health Coach
Absolute Body Cleanse and Detox
6601 University Avenue, Suite 103
Windsor Heights, IA 50324
LuGene has been in the natural, holistic health and wellness field for over 8 years. She focuses on rebalancing the body through body detoxing with ion cleanse footbaths, reflexology, all natural, herbal supplements, pure essential oils, healing magnets, and diet and nutrition. LuGene is a Certified Natural Health Professional (CNHP), Reflexologist and Certified IN.FORM Health Coach.
At the Iowa Metaphysical Fair LuGene will be doing Biofeedback Health Assessments, have natural herbal and essential oil products, as well as healing magnets.
Phoenix Coaching & Consulting
Rev. Shae Moyers D.Div.

Intuitive and Transformation Coach

913-602-9746
WEB http://www.radiantphoenix.com
e-mail phoenixcoachconsult@gmail.com
A Clairvoyant Intuitive and Medium with over twenty seven plus years experience, Rev. Shae Moyers' gift of insight and ability to communicate with those who have crossed over provides her clients with personalized soul healing experiences. Known for her amazing accuracy and ability to clearly "see" to the heart of the matter, Shae's warm "down home" style creates a safe nurturing space for her clients to experience transformation at the deepest levels of their being.

Shae offers private intuitive consultations, mediumship readings for individual and groups, tarot and oracle readings, transformation coaching, energy healing and full ministerial services including interfaith weddings and rites of passage. Rev. Shae offers a wide variety of workshops teaching psychic development and spiritual empowerment courses throughout the Midwest. Shae is an ordained minister and spiritual counselor. Rev. Shae is also the Executive Director and founder of the Phoenix Institute of Conscious Living in Kansas City.

Rev. Shae Moyers is available for private individual sessions, workshops and private parties by appointment. Phone and Skype sessions are also available. To make an appointment or for more information on classes and private session rates, please call Phoenix Coaching and Consulting at 913-602-9746 or email: phoenixcoachconsult@gmail.com. Please visit her Facebook page a thttps://www.facebook.com/phoenixcoachconsult for more information.
Ricky Yutuc
Ricky's healing didgis are made from the fallen Agave plants. The agaves are harvested by Ricky in Sedona Arazona
and on the Island of Kauai, Hawaii. Next, Ricky, a master in the art of making didgeridoos,
creates them to play in each of the concert key pitches that relate to each charka's frequency of the body.
After scanning the body for blockages using Reiki techniques and crystals,
Ricky plays the appropriate didgeridoo to open and clear the area of the body that needs healing.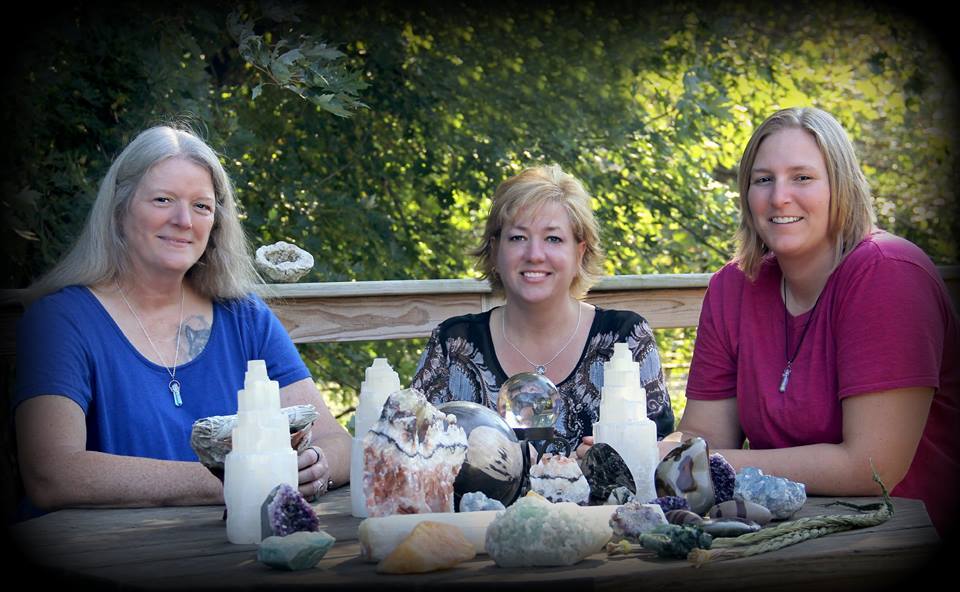 Wild Indigo Coyote
TRINITY ORACLE READINGS
Wild Indigo Coyote on Facebook
Three gifted readers each using a different deck of oracle cards
will provide an integrated reading giving you insightful guidance.
Learn how the past is influencing your present and how to use this
information to create the future you want.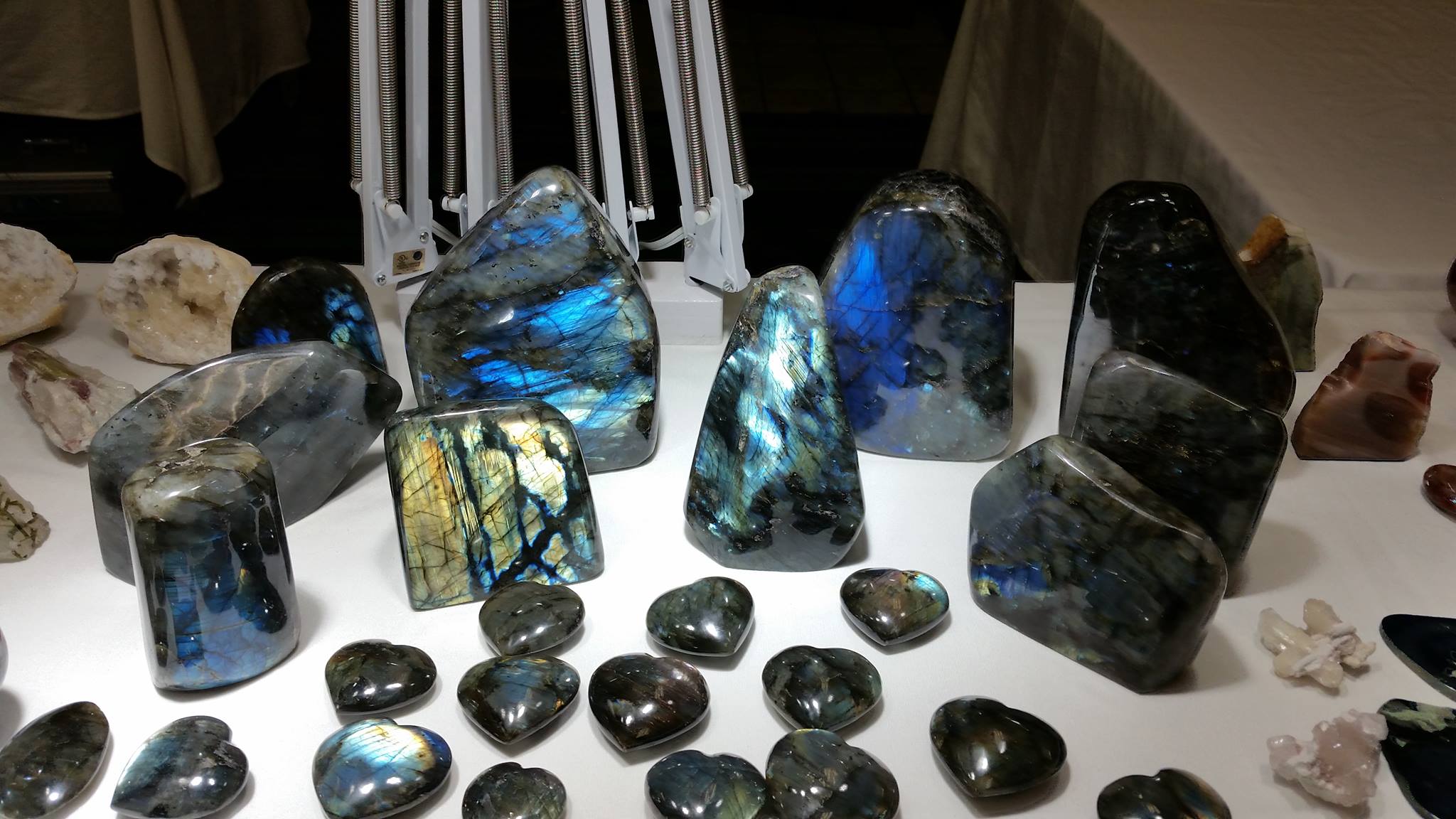 Crystal Joy
Facebook page at https://www.facebook.com/crystaljoyok
Crystal Joy actively seeks out high energy stones for you. We personally select our stones at various shows and bring them to you.
We also help match stones to you. We carry crystals in all forms – rough, polished, carved and wands.
We will also help you fulfill special requests.
Perfectly Posh
Jennifer Borsch
405-473-0867
www.poshwithjenn.com

Cruelty free pampering for your mind, body, and spirit with our highly organic ingredients in our vegan/vegetarian products. Body scrubs,
hand cremes, face masks, and more at an affordable price.
Everything is under $25 and Buy 5 Get 6th item FREE (some exclusions apply).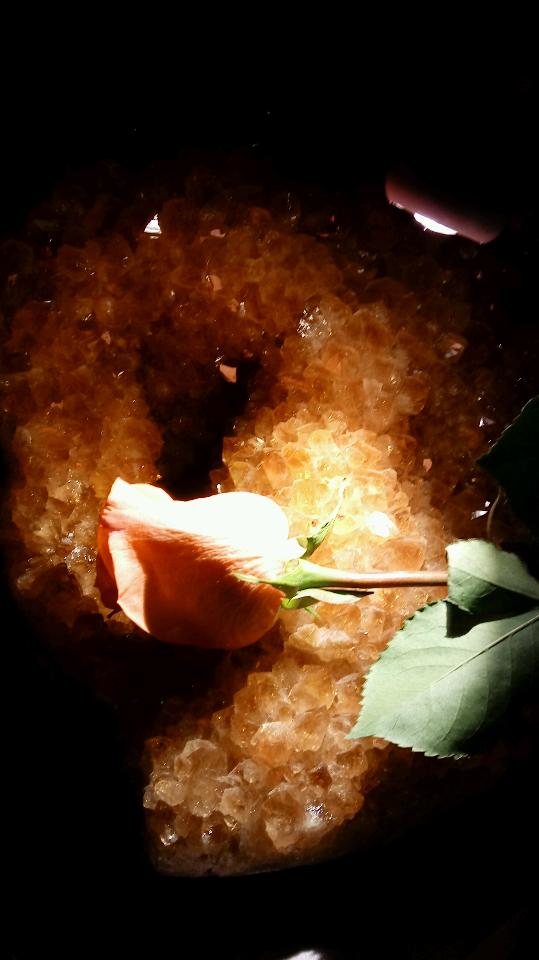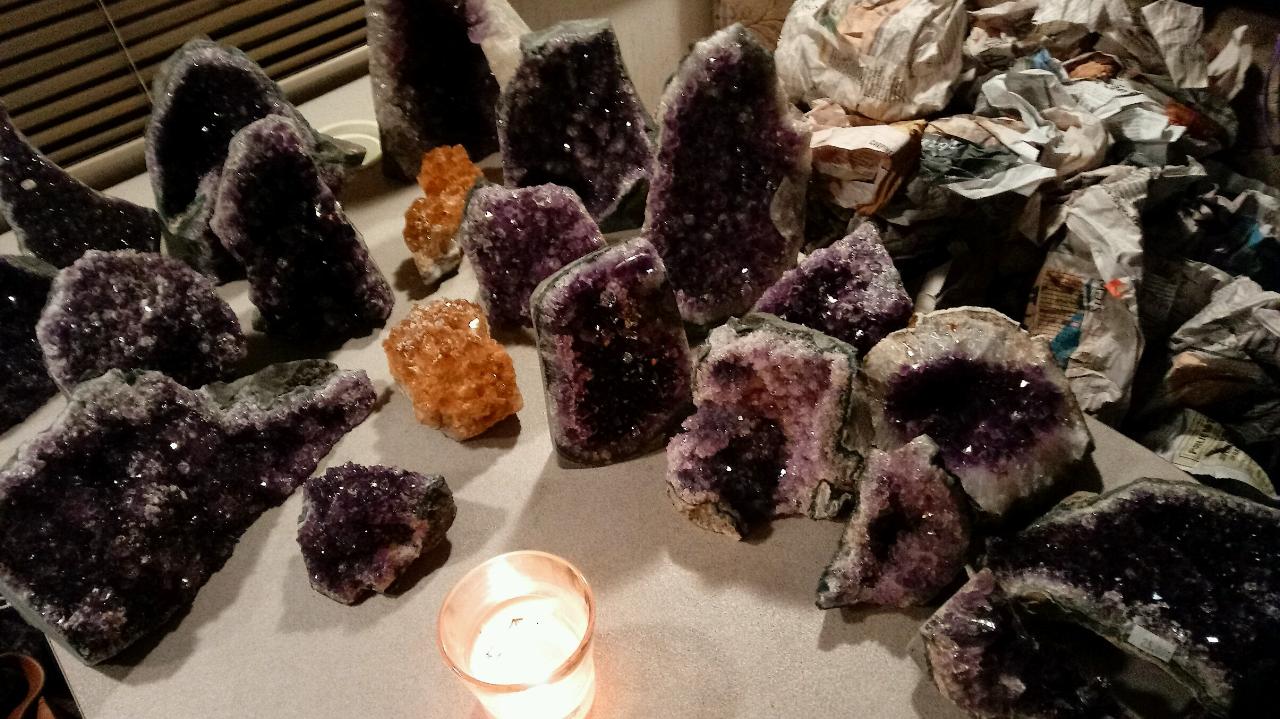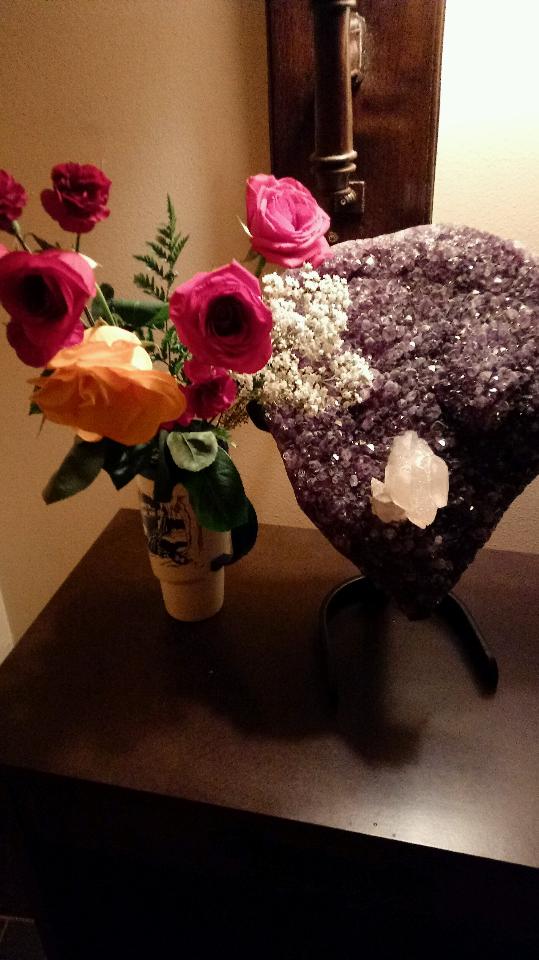 Alvarado Mercantile Company
662-321-7561
claudefletcher221935@gmail.com
Welcome to Alvarado Mercantile Company!
Specializing in Quality South American Amethyst from Brazil and Uruguay. We go straight to the source, the largest Amethyst mines in the world and hand select pieces that are of the highest quality. We look for beauty, uniqueness, and energy. We have a large inventory of various types of pieces. We have show pieces on custom built iron stands to fit each piece. We also sell cathedrals and caves of all sorts shapes and sizes as well as beautiful flat pieces and cut base pieces of all sizes. We have something for every budget and price range, Our pricing is considerably lower than any retail shop in the U.S. We are able to offer lower pricing due to buying directly from the mines. Alvarado offers some very unique options for the buyer. We travel the United States 8 months a year and offer private in home shows for you to view the pieces in the privacy of your own home or business. These private showings are always fun, as it is an intimate setting and gives us one on one time to explore our inventory. We also deliver to 45 of the domestic United States. Please feel free to give us a call anytime 24/7 to find out our show schedule or set up a private viewing!
In addition to Amethyst, Alvarado Mercantile specializes in fine Fire opals, Amber, Jasper, Citrine, and Garnets. We sell these in the raw form and in various types of jewelry. We hand make jewelry of all sorts, quality and prices, As well as custom embroidery work. We also have authentic hand woven Hopi baskets and are purveyors of vintage and unique southwestern Native American jewelry and art. Please feel free to give us a call or send us an email anytime! Call Clay or Karen at 662-321-7561 or email us at claudefletcher221935@gmail.com We love our customers and look forward to talking with you soon!
Truly,
Clay and Karen at Alvarado Mercantile Company
Windy Ridge
Angela Scanlan
http://www.windyridgehandcrafted.com
https://www.facebook.com/Windy-Ridge-Handcrafted-102580933137118/
319-464-5198
SOAPS*MEDICINAL LOTIONS*HERBALS
My products are made as natural as possible .I use no fillers or chemicals
At Windy Ridge every thing is hand crafted using the Natural approach to skin care.
I love making a product that is natural as well as proven useful.
Stop my my booth and see an all natural approach to enjoying everyday products
made with LOVE and all natural ingredients.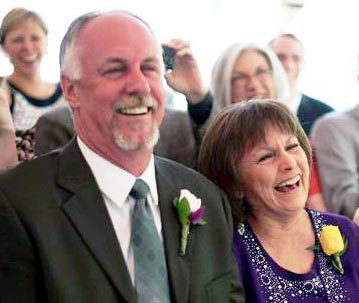 New Spiritual Horizons
Dr. Susan Kellogg shares readings for Past Life/Present Purpose Discovery and Chakra Tarot for Balance and Healing.
Her practical approach focuses on finding solutions for present-day challenges and empowering your innate intuition.
Dr. Paul Kellogg will demonstrate how to see and self-heal your spiritual "aura" for instant relaxation.
Join us for a spiritually uplifting experience of confirmation, inner peace and knowing the Real You!
Let us show you some keys to becoming your own best psychic and angel communicator.
" Visit www.soul2soulliving.com

Mysteriousmagick777@gmail.com
Treading upon the footsteps of Ancestral creation, we work with Wild Herbal Spirits and the Magick of
Alchemy combined with the raw energy of the earth .
Psychic Energy readings with Amalia Vivica & Tea Leaf
Readings with Star.
We create handcrafted magical wares such as Wands, Amulets, Scrying Mirrors, Pendulums and other Magical
tools for the
Aspiring Magician.
All are created in
accordance with Divine purpose and energetically charged through specific planetary alignments for their full
benefit to your magical needs.
Amidst our array of creations we have Herbal Elixirs and Organic Tea, a perfect precursor to magical workings.
We are local Artisans and would love to assist you in your magical endeavors.
Sacred Designs By Spirit
Shimen Averhoff
33391 290th St., Shell Rock, Iowa 50670
319-415-9323
Sacreddesignsbyspirit@gmail.com
Facebook- Sacred Designs by Spirit
Shimen is a holistic practitioner for over 16 years. She has been trained as a Reiki Master,
Certified Crystal Healer, Advance Theta and Shamanic teachings.
She will be offering Crystals, custom gemstone jewelry,
Tarot/oracle cards, herbs, healing sessions and Aura Photo's. Available for private sessions.
Peruvian artisan
My husband is a Peruvian artisan specializing in wire wrap pieces. His style is rooted in traditional Andean techniques, but is constantly changing and improving. He uses beautiful pieces of semi precious natural stones coming mostly from South America and India. He has some beautiful labradorite and moonstone right now.
In addition to his pieces, we will be featuring 3 or 4 other Peruvian jewelry artists. There will be more metal pieces, some beautiful macrame, and feathers and teeth from the Amazon. I am most excited about the Shapibo fabrics, though. I've attached some images and a link if you're not familiar with the work.
"The Shipibo are one of 14 indigenous tribes living in the Amazon Basin in Peru. They are a shamanically based people, deeply influenced by the power of the plants, animals and natural elements. A unique aspect of the Shipibo culture is their woven song tradition. The Shipibo record their icaros or healing songs in elaborate geometrical designs that function like a musical score and correlate and interact with the natural world. They see the patterns in the natural world and are able to reproduce them for protection, healing, abundance, harmony and a variety of other purposes."
Heidi Wilson
https://universoulconnection.com
515-770-6800
My name is Heidi Wilson and I am a Intuitive, Empath, and Channeler for ones who have past on. As a child I experienced many heart attacks which lead me to an out of body experience. Since then my journey has brought me to understanding the meaning of what we call "life". As a Quantum Hypnosis Practitioner and Quantum Light (Life) Coach I will help guide you to understanding the power within you and becoming the totality of everything you have always wanted to be. Through Hypnosis I will help facilitate you in clearings of emotional patterns through past memories or past lives, connecting with your higher self, fears, addictions, forgiveness therapy, surrogate sessions, phobias, eating disorders, health problems, depression, attachments, imprints, anxiety, twin flames, etc. I also offer Life Coaching sessions and house clearings to clear out any influence within the home that might be disrupting the family dynamics.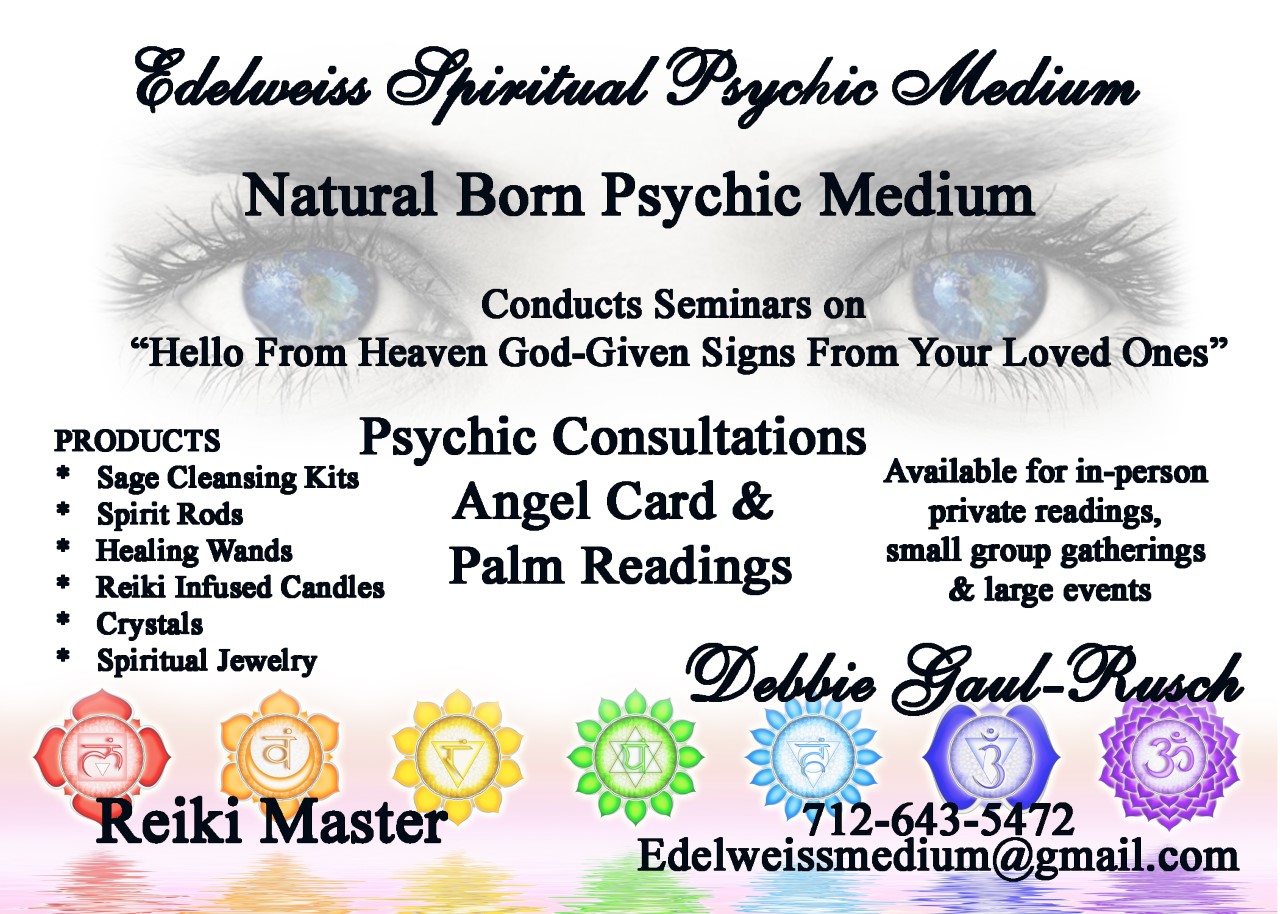 Debbie Gaul-Rusch – Edelweiss Spiritual Psychic Medium
Hi, I am Debbie, I am a natural born psychic and Reiki Master. Fortunately I was raised in a family that was willing to listen to me and open to understanding all the crazy things that I would say and do as a child. My family has had several ancestors with some abilities so I know that because of this it made a difference in how I was raised. I feel very strongly that God gave me this gift to use to help people connect with their loved ones. Being able to give a family some closure, comfort or answers, is very important to me. We all get signs daily from God, from our loved ones, our spirit guides and guardian angels. We just need to open our hearts and our minds to see and receive them. I have helped literally hundreds of people talk to their loved ones that have passed on in my life-time. I have developed an interactive seminar on this very subject. My Hello From Heaven, God-Given Miraculous Signs seminars are always very well attended. I have presented to many different groups I also do Psychic Consultations, Angel Card Readings, Palm Readings and Reiki Healing Energy Therapy.
I take appointments at both my studio in Dow City and also at the Healing Arts Center in Carroll, Iowa. Through the years I have been able to use my gifts and expand on them. For me, being a psychic medium is just part of my life… it is who I am….
I believe that everyone is born with a sixth sense.
It just depends what you do with it. How you develop it
As a matter of policy The Iowa Metaphysical Fair does not endorse any Reader/Healer or vender.
The only way to insure that we have tested the Reader/Healer is to look on our vender page on our website to see if they are listed there.
It has been brought to our attention that people are getting recommendations for people stating that they are
from the Iowa Metaphysical Fair Screening Committee no such committee exists.
So if they are not listed on our vender page of our website we don't know them.
TRUST THEM AT YOUR OWN RISK.
The IMF Board
This list is not complete there will be more vendors at fair if you are a vendor please send a bio exactly how you want it and send to the Webmaster it will be added.
All advice from a Reader / Healer is of a general nature and is not to be substituted for a qualified professional. ((An Attorney, Doctor, Therapists, Financial Adviser.))
Any sessions you Have At the Iowa Metaphysical Fair not intended to diagnose, treat, alleviate, cure, or prevent any medical, psychological,
or nutritional condition, disease, or disorder. OUR Readers /Healers are not a substitute for effective standard medical treatment.
You are advised to continue ongoing medical treatment and therapies until otherwise advised by your physician or medical practitioner.
IMF Assumes no liability for vendors bio content. We copy and paste all vendor bios The vendors assumes all liability for website bios contents and pictures .
It is the policy of IMF that the venders have all permissions for all artwork and content of there bio and assumes all liability for Bio content.